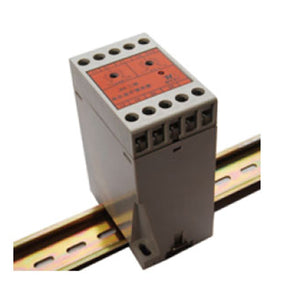 Monitoring relay JZS-34
Characteristics:
Forwarding detection range is from 5 turns/min to 5000 turns/min (three gears by the switch on the panel).
Speed alarm/low alarm 2 working mode (panel switch choice)
Alarm status (relay absorb alarm; relay release alarm)
When ordering instruction (changing the connection cable inside).
Detection probe adopts proximity switch, choosing different detection time according to motor starting time (changing the external resistor caused by terminal)
Scope of hysteresis (turns differences released by alarm relay absorbing) can be set by the potentiometer on the panel.  Mounting type: sub-plate/din-rail, alarm signal relay output.
Safety Index:
Flame resistance: UL94-V0
Dielectric strength: Primary/secondaries/power > 2.5KV AC/1min
Operating Environment:
Environment temperature: -25°C ~ +55°C
Altitude: ≤1000m
Humidity: 85%
Technical Parameters:
Detection range: 1 gear 5-50 turns/min
  2 gear 50-500 turns/min
  3 gear 500-5000 turns/min
Detection delay: 4-50 seconds (by an external resister selection)
Hysteresis factor: Potentiometer change
Detecting element: The one 2 wire/ 3 wire 24V DC is near to switch
Working voltage: 220V AC ±10%
Power consumption: 2VA
Output relay: 250V 4A 1 convert
---
We Also Recommend